---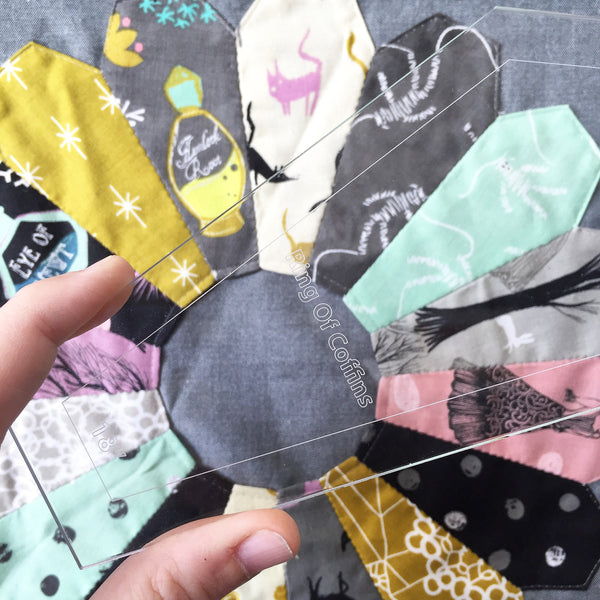 MADE TO ORDER - Ring of Coffins Acrylic Fussy Cutting Template
Regular price $7.00
This product is available.
These are MADE TO ORDER and may take up to 4 weeks to ship depending on how many are ordered. I will try to keep at least four on hand at all times, so if it may say MADE TO ORDER in the title, but I may still have some in stock. 
These are 1/4" thick clear cast acrylic laser cut and engraved templates. I designed and laser cut them myself.
They are meant to help fussy cut, or center, a design within the Ring of Coffins shape, while also including a generous seam allowance for basting. 
Choose from the 12" or 18" finished ring size when checking out. You can also purchase both at a discounted rate. 
Due to COVID19, and whatever is going on with the USPS, shipping is down to once a week and there may be delays in route.
I apologize for this, but this shop is run by one person, Jessee, who has several autoimmune diseases and is high risk when it comes to the virus. This means places like the post office are off limits.
For most of 2020 Jessee wad driving to a post office 30 minutes away that has an outdoor package drop off and is a major depot in the area. That way the packages bypass our local small town post office and go straight to a sorting center.
However from now until sometime in the new year, most items were taken out of the shop. There is just too much going on with the USPS and the Holidays. We will fully reopen once things calm down.
Print on Demand items have been left in the shop. Jessee designs these and another company prints and ships them. Each item may take up to 8 weeks to ship right now, and we can not control when. So please be patient with us!
Send us all the good vibes and Happy Holidays!